Rainbow Health is Relocating!
We're moving! After seven years at our St. Paul location, Rainbow Health has decided to move to downtown Minneapolis!
Our new address is
701 S 4th Ave Ste 1500, Minneapolis, MN 55415
You'll find frequently asked questions, office hours and other must-know information on this page. We will continue to update as we get closer to and have completed our move!
If your question is missing, please send an email to communications@rainbowhealth.org.
How can I get there?
The entrance of the building is on
South 4th Avenue and South 7th Street in downtown Minneapolis. There is a large "701" sign outside the office tower.
The new Rainbow Health location is reachable from light rail, accessible bus stations and the skyway.
To help navigate your visit, you can use the Metro Transit trip planner, which can be found at https://www.metrotransit.org/trip-planner.
Some available transit lines:
METRO Blue Line

METRO Green Line

METRO Orange Line

METRO C Line

METRO D Line

Route 5

Route 9

Route 14

Route 22

Route 94

Route 852
Skyway Access is via SPS Tower and Centre Village during regular business hours.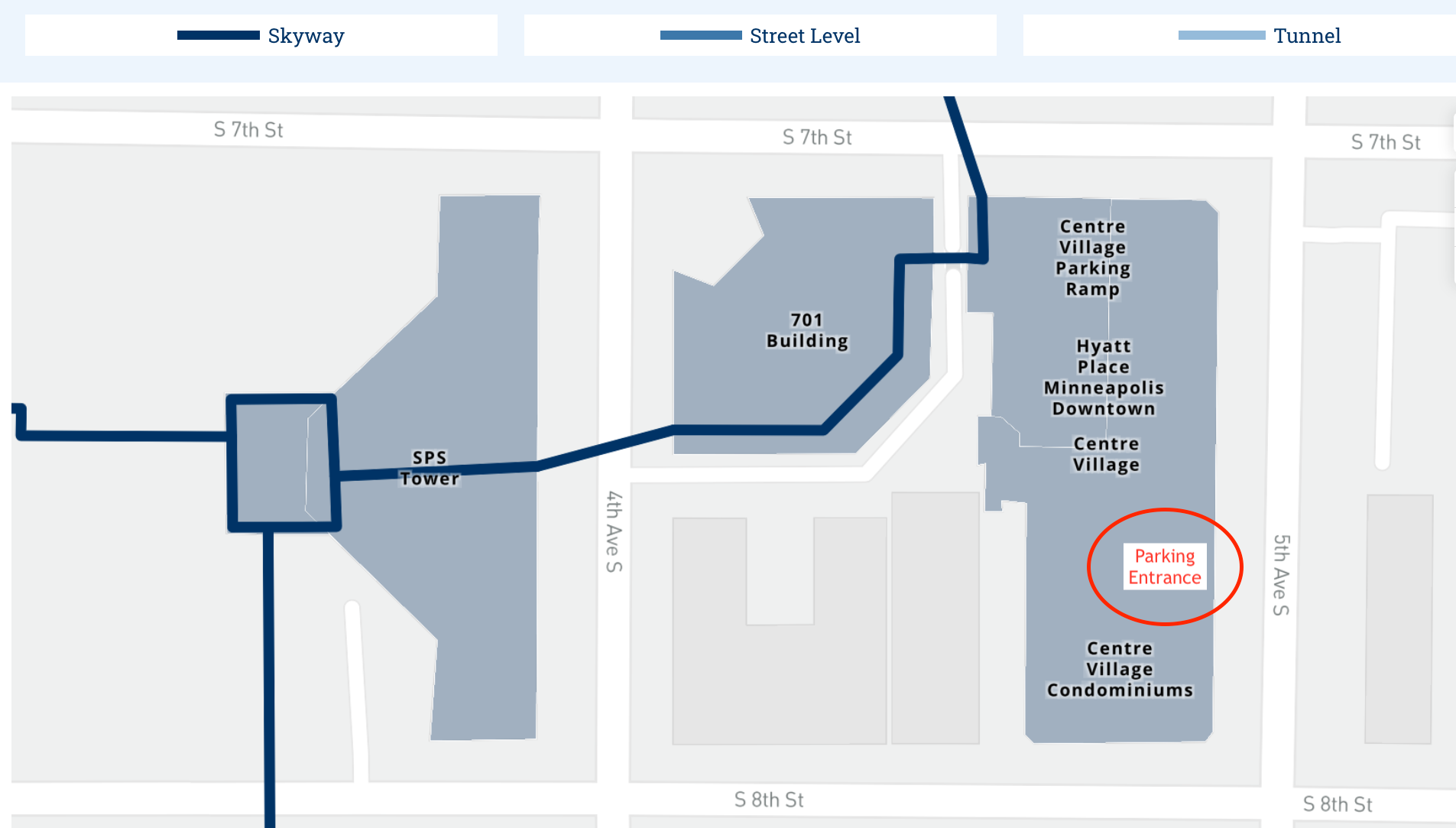 From Main Building Entrance: Take escalator up one floor to the security desk. They will give elevator access to the 15th floor to our office suite!
There is an accessible entrance in the main lobby and the elevators are straightforward from there.
Where do I park? How much is parking?
Rainbow Health visitors can receive up to 2 hours of validated parking from the Denison Parking Centre Village Garage, located at 700 5th Ave S. Minneapolis, MN 55415. Validation will be provided at our front desk. Visitors are responsible for any parking costs that occur after 2 hours. 
The garage/ramp is located on the left-hand side of 5th Ave. S (a one-way street) between S 8th St. and S 7th St. 
To get to our office from the parking ramp, take stairs or elevator to skyway level. The 701 skyway entrance is directly behind the elevators.
Inside the 701 building, take the elevator to the 15th floor.
What are your hours?
General office hours will be:
Monday – Friday 9 a.m. to 5 p.m.
Saturday & Sunday: Closed
When can I visit?
Starting September 1, we will be fully operational in the new space.
We're planning on an open house event in October, stay tuned for information!
When will __Program be available?
For mental health services, please get in touch with your behavioral health professional to get their specific office availability times.
For other programs, as we get more settled into the new space, drop-in and additional hours will be updated on this page and throughout the website.
What about your syringe services program?
Mainline will still be available at
All God's Children Metropolitan Community Church
3100 Park Ave, Minneapolis, MN 55407
Those hours are:
Monday: 1 p.m. — 5 p.m.
Tuesday: 10 a.m. — 2 p.m.
Thursday: 11 a.m. — 1 p.m. & 2 p.m. — 5 p.m.
Friday: 10 a.m. — 2 p.m.
Wednesday, Saturday, and Sunday: Closed
For more information call 651-359-3459 or the Minnesota AIDSLine.
Can I still stay remote?
We are committed to staying in your comfort zone, so if you would like to continue working with us remotely, that is okay!
Are there any prohibited behaviors while at Rainbow Health?
Unless otherwise noted, smoking, use of alcohol, or other controlled substances are not allowed on the building's property.