HERR Day Out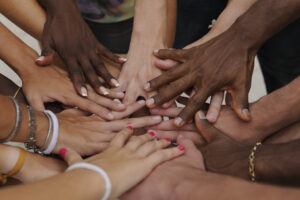 HERR Day Out is a Health Education/Risk Reduction (HERR) support group for women living with HIV that increases emotional well-being by providing a safe place to share the experience of living with HIV.
In Minnesota, 24 percent of all people living with HIV are women. Women of color made up 70 percent of all the newly diagnosed females in 2018 with African-born and Non-Hispanic African-American women being the most disproportionately affected.
Management of HIV is essential to living a long, healthy life. For many, the only safe place to discuss their status is during a medical appointment, which is generally every 3 to 6 months. Keeping emotions on hold between doctor visits causes women to suffer from depression, anxiety, and emotional isolation. At HERR Day Out, we encourage women to create their own peer support network that offers a daily connection.
HERR Day Out meets throughout the year.
Rainbow Health support groups are available to people all across Minnesota. If you are living in Greater MN, online and phone support is available 1-on-1 and in groups, right now! Educational workshops on living well with HIV will be available as soon as the current COVID-19 public health emergency abates.
Case Managers & Other Referring Staff:
Click here to get the Peer Support Intake Packet; when complete, email to aidsline@rainbowhealth.org or fax to 612-341-3827
If you are interested in getting involved with HERR Day Out, contact the Minnesota AIDSLINE
AIDSLine
The Minnesota AIDSLine is Minnesota's statewide information and referral service that can answer your questions about HIV and link you to help. You may reach AIDSLine by phone, text, e-mail, or live chat.
Text "AIDSLine" to 839863
Call Us