Our History
Formation of Rainbow Health
Rainbow Health Minnesota was formed as JustUs Health in 2018 by the joining of the Minnesota AIDS Project and Rainbow Health Initiative. Later that same year, the nationally recognized education curriculum of Training to Serve was added to JustUs Health's education programs.
History of Our Founding Organizations
Rainbow Health could not be a reality without the vision, hard work, and persistence of our founding organizations. We honor the histories of these great organizations and the hundreds of dedicated staffers, volunteers, board members, clients, and community members who powered them through the years.
1980-1989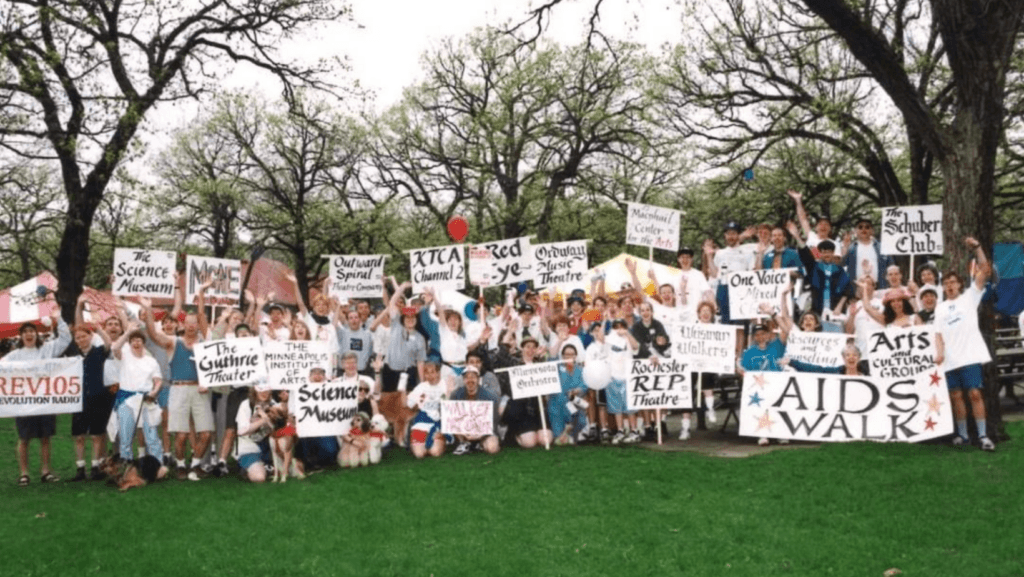 The Minnesota AIDS Project (MAP) was founded in 1983, as the vision of a small group of dedicated gay men – including Bruce Brockway, the first Minnesotan with a documented case of HIV – and became the state's largest AIDS service organization. From its inception, MAP has been an integral witness to and player in the story of HIV in Minnesota and AIDS in America.
April 27, 1983 – articles of incorporation were first filed to officially name a small group of volunteers the "Minnesota AIDS Medical Project." The group was organizing service and prevention measures for a disease that was only just beginning to emerge into the national public consciousness. A year later, the name was amended to "The Minnesota Acquired Immune Deficiency Syndrome Project."
One of the early volunteers, Dennis Kearney, stated, "We did the best with what we knew and frankly we didn't know much." Volunteers relied heavily of contacts they had across the country for information as well as local infectious disease doctors to learn whatever they could about this new disease.
1985 – the organization received its first grant, $25,000 from the U.S. Conference of Mayors, providing funds for a half–time staff person, Jim Chalgren, and for targeted safe sex messages for the gay male community. The organization was now focusing on both education/prevention and service to those already infected under the arm of "Services for People with AIDS" (SPA), a group within MAP that at the time developed its own vision and long–term plans. In October of 1985, Eric Engstrom was hired as the group's first acting director.
Later in the same year, an infusion of $125,000 from the state legislature allowed the fledgling organization to move to 2025 Nicollet in Minneapolis from its small office on University and Snelling in St. Paul. More importantly, it allowed the hiring of additional staff. The agency began expanding its role once again, moved into activism that included reaching out to policymakers and public officials.
1986 – the first case management efforts began, along with the birth of the "MAP Hotline," which would become the Minnesota AIDS Project AIDSLine and later the Minnesota AIDS Line.
1987 – the 100th AIDS death was reported in Minnesota, along with over 25,000 deaths nationwide.
The first Minnesota AIDS Walk was held in 1988 as the disease began to be more widely reported and recognize outside the LGBT community as a public health crisis.
1990-1999
August 18, 1990 – The Ryan White CARE Act – which still provides the majority of federal funding to HIV/AIDS service organizations today – was passed in 1990. It was that same year that Lorraine Teel became executive director, a position she would hold for the next 20 years.
The decade brought new and expanded services for the community from the agency. The number of new infections being reported each year was rising and many were dying. The Ryan White Care Act allowed for the development or expansion of many services to provide support including the legal program, case management, transportation, emergency financial assistance, and the AIDSLine.
1994 – the agency established a formal public policy department to focus on advocating for the rights of those with HIV and to address issues that continued to fuel stigma and misinformation about the disease. The organization was also successful in launching its mobile syringe exchange program to reduce the risk of HIV through injection drug use (IDU)– which has led to Minnesota having one of the lowest rates of HIV transmission via IDU in the country. The AIDSLine moved from a response-only hotline to serving the state as a simple, single point of contact for information and referral services. Improved medications helped many HIV-positive people who had access to healthcare, but getting appropriate care remains a barrier for many.
By the end of the 1990s, PrideAlive and Positive Link began. PrideAlive brought the LGBTQ+ community together to create space for conversations about HIV prevention, mobilize volunteers to get into the community with important prevention information and tools, and engage the community in advocating for effective prevention strategies and funding. Positive Link brought together gay and bisexual men living with HIV to support one another, break down HIV stigma, and provide resources to those living with HIV.
As the treatment options for HIV changed at the end of the decade, people living with HIV were able to live much longer lives. Programs like Benefits Counseling emerged to help people navigate the complicated web of public and private programs that elevate the standard of living for people living with HIV.
2000-2009
November 2000 – the first meeting for Rainbow Health Initiative (RHI) was held. Founders Ron Falcon, Mark Lofstrom, and Lynne Ogawa discussed the need for a formalized referral network, an organized means of representing health, collecting data on LGBT community health, and the need to educate providers about the needs and sensitivities of LGBT patients. During its early years, RHI used MAP as a fiscal agent. RHI also served as a founding member and lead agency for the Tobacco-free Lavender Communities of Minnesota.
2001 – RHI developed its first mission statement – to improve the health of gay, lesbian, bisexual, and transgender people in Minnesota through education, clinical practice, and research. The General Health Care Needs and Access Assessment Survey was conducted at the Twin Cities Pride Festival. This survey served as a major starting point for the Rainbow Health Initiative's future work.
2002 – RHI severed its financial relationship with MAP and began work as a completely separate non-profit agency.
2003 – RHI helped found Tobacco-free Lavender Communities (TLC) of Minnesota as a resource for RHI to execute grant work and became the lead agency of the TLC coalition. This relationship played an important role in tackling the high rates of tobacco use in LGBT communities.
2006 – RHI created a new mission statement: Improving the health of gay, lesbian, bisexual, and transgender people in Minnesota through education, clinical practice, advocacy, and research. Advocacy was added to the mission statement to better reflect the organization's work.
2007 – the first annual Fruit Bowl was held. This event was the first tobacco, drug, and alcohol-free event at the Twin Cities Pride Festival. Just two years later in 2009, RHI held the first dedicated health and wellness area at Twin Cities Pride. This area brought the community together around health activities and provided a space for vendors that focused on health and wellness. This positioned the agency to begin helping other organizations implement Tobacco-Free Outdoor Events and Ethical Sponsorship Policies in 2010. This work included nonsmoking policies and policies to stop partnerships with the tobacco industry.
Based on local research studies showing LGBT older adults perceived fear of treatment by service providers as well as a service provider network largely unprepared to serve LGBT older adults, representatives from the University of Minnesota, Metropolitan Area Agency on Aging, Minnesota Department of Human Services/Minnesota Board on Aging, and LGBT community advocates came together to form Training to Serve (TTS) in 2008. TTS's initial purpose was to train service providers on the unique needs of LGBT older adults. In 2009, TTS's founding Board was formed.
Continuing to educate about HIV was, and is, essential. In the late 2000s, MAP launched Training, Education, And Capacity-building for HIV (TEACH). TEACH reached out to the community and health and human services professionals to ensure they had the latest information about HIV. MAP also introduced substance use counseling and mental health counseling to the list of services available to the community. These services were vital in breaking down some of the barriers that clients face in maintaining their health.
2010 – 2019
2010 – RHI created a new strategic plan which included three major areas of focus 1) research 2) education and 3) advocacy. The new strategic plan also identified service area priorities such as healthcare access and quality, nutrition and physical activity, reproductive health, healthcare policy, chemical dependency, tobacco use, and mental health. Also, that year, TTS began training the first community organizations on LGBT aging.
2011 – for the first time in its history, the Twin Cities Pride Festival was entirely smoke-free with the assistance of Rainbow Health Initiative. RHI became a sponsor of all of Minnesota's pride events, hosted eight different health and wellness area booths, and helped implement five tobacco-free pride events. A year later, RHI released the first Voices of Health survey report and created Shift MN to address the higher rates of tobacco use by LGBTQ+ populations to push back on targeted marketing to the LGBTQ+ community. TTS established the John Yoakam Award for Service to LGBT Elders to annually honor a senior service organization or an individual in Minnesota that has made strides to provide an environment where compassionate care for lesbian, gay, bisexual, and transgender older adults can flourish.
2012 – TTS worked with community partners to replicate the 2002 Twin Cities LGBT Aging Needs Assessment, one of the first comprehensive studies of LGBT older adults.
2014 – RHI was still the only organization in Minnesota collecting statewide health data on LGBTQ+ communities and TTS hired Dr. Rajean Moone as its first Executive Director.
2015 – MAP closed on the sale of its previous location at 1400 Park Avenue in Minneapolis. The money from the sale of the building was put into an investment account for future transformational change expenses. The agency moved to 2577 Territorial Road on the Saint Paul side of the Twin Cities just blocks away from the border of Minneapolis along the new light rail green line at Westgate station. RHI partnered with the Minnesota Transgender Health Coalition to launch a statewide provider directory. RHI also obtained its first national grant to create the Standards of Inclusion for health and human services providers. TTS partnered with Jones-Harrison on the Outing Dementia initiative which was designed to increase LGBT community awareness of Alzheimer's disease and dementia by creating culturally sensitive, person-centered key messages and materials.
2016 – MAP added navigation services for Pre-Exposure Prophylaxis, a promising new prevention strategy that stops HIV from infecting people at risk. Understanding the promise of HIV treatment as an important HIV prevention strategy led to increased care linkage programs, and a focus on medication adherence. MAP also adopted adjunct services such as Hepatitis C testing and prevention efforts, as well as overdose prevention to respond to the needs of clients in our syringe exchange program. MAP and RHI started conversations about merging to create a larger organization that would be able to serve more constituencies than either could serve on their own.
February 2017 – RHI held the first annual Opportunity Conference. The goal of the conference was to bring health providers, researchers, and policymakers together to address disparities experienced by LGBTQ+ communities in the Midwest.
2018 – TTS established the LGBT Elders in the Arrowhead Project – providing eight sessions and technical assistance to local communities in Northeast Minnesota.
May 2, 2018 – MAP and RHI announced their new name as JustUs Health. The announcement capped several months of transition activity internally for the organization and culminated with the roll-out of its new name and logo, an updated mission and vision for the newly joined organization, and the opening of the JustUs Health therapy and counseling offices located at 1000 University Avenue in Saint Paul near the green line Lexington station.
October 2018 – JustUs Health hired David Fey to serve as its Interim Executive Director until a national search for a new Chief Executive Officer was complete. In November of the same year, JustUs Health announced that it would acquire TTS as a new area of growth for its community education and training programs.
April 2019 – JustUs Health's Board of Directors announced they hired Jeremy Hanson Willis as the new Chief Executive Officer for the agency whose first day in the role was April 8. His appointment was the culmination of a six-month national search under the direction of a six-member panel of the JustUs Health board members and senior agency staff. Jeremy once served as the Community Affairs Manager for the Minnesota AIDS Project between 1996 until 1999. He left the Department of Employment and Economic Development at the State of Minnesota where he served as the Deputy Commissioner to join JustUs Health. He has also served as the Chief of Staff and Communications Director for Minneapolis Mayor R.T. Rybak.
2020-2021
April 2021 – After six months of staff and board collaboration facilitated by Neka Creative, JustUs Health filed new articles of incorporation as Rainbow Health Minnesota. A new website—developed and designed by Saint Paul Media—was launched shortly thereafter.
2023
August 2023 – After seven years in St. Paul, Rainbow Health relocated to its current location of 701 S 4th Ave in Downtown Minneapolis.