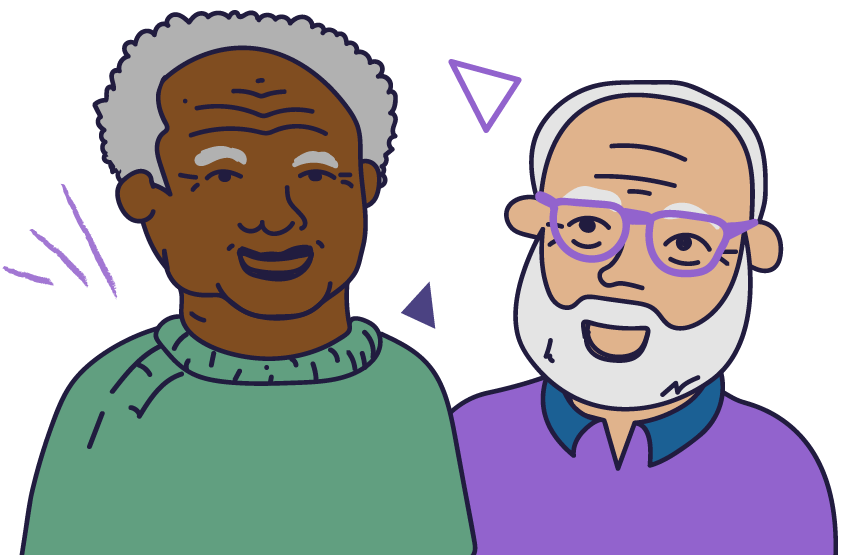 Rainbow Health envisions a community that fully supports its older adults, including LGBTQ+ elders and those aging with HIV, with a range of services, supports, and policies that allow them to age with dignity, independence, and access to the quality care they seek and deserve. Contact us at [email protected].
Aging in the LGBTQ+ and HIV Communities
As is true in general across the country, one of the fastest-growing demographics within the LGBTQ+ and HIV communities is older adults. Most broadly understood as people age 50 or older (some contexts rely on different age thresholds), LGBTQ+ people currently in or approaching older adulthood are among one of the largest cohorts of out LGBTQ+ elders—and often encounter, or fear, discrimination, gaps in service, and profound isolation as they age. Studies by the University of Washington, the Kaiser Family Foundation, and AARP, among others, describe the potential health disparities LGBTQ+ older adults may experience.
From the perspective of those living with HIV, advancements in HIV treatments mean that HIV infection is no longer the death sentence it typically was in the 20th century, and that ever-greater numbers of folks living with HIV are reaching older adulthood. Many, not anticipating aging with HIV would be a possibility, did not plan psychologically or financially for their later years, and may seek services from providers who did not anticipate needing to familiarize themselves with the needs of older clients with HIV. This has led to a new and unexpected phase of the HIV epidemic.
Training to Serve
In 2018, the nationally recognized Training to Serve program became a part of Rainbow Health, and we are proud to continue to expand and provide trainings to individuals or organizations who serve older adults, on how best to serve LGBTQ+ elders and those aging with HIV. The goal of providing this training is to increase the likelihood that an LGBTQ+ older adult or someone aging with HIV will find a provider who can serve them well with respect to their identity or HIV status, ultimately improving health outcomes for these individuals.
To schedule a training session, contact [email protected]. All trainings are approved for Minnesota Board of Social Work CECs.
Over the years, the Training to Serve curriculum has been provided to over 12,000 individual service providers in Minnesota and beyond.  Many of these providers are associated with the entities listed in the program's Resource Guide—please note that this publication is several years old and that our updated online directory of providers known as Violet is now available. Violet is not meant to endorse or guarantee the sensitivity of any provider. There is no fee to appear in Violet.
In our mission to achieve health equity in Minnesota, we combat real and significant lesbian, gay, bisexual, transgender, and queer health disparities on many fronts through our advocacy, community education, and direct client services. For aging LGBTQ people and those living with HIV, there is no one Minnesota organization dedicated to their care—to address these unique needs, we recently completed the third decennial Needs Assessment Survey.
The information gathered from this survey is essential in closing these gaps to provide statewide funding, people-power, and training opportunities to meet the unique needs of older LGBTQ people and those living with HIV. Click the link below to view the results of this year's 46 question survey that identifies what our community needs as we age and how that differs from cisgender, heterosexual aging populations.
Funding for this study was provided by: University of Minnesota Clinical and Translational Science Institute – Community Health Collaborative Grant; University of Minnesota Office of the Vice President for Research – Serendipity Grant on Aging.
Research reported in this publication was supported by the National Center for Advancing Translational Sciences of the National Institutes of Health Award Number UL1TR000114.
The content is solely the responsibility of the authors and does not necessarily represent the official views of the National Institutes of Health. This 2017 study was conducted by Dr. Abel Knochel of the University of Minnesota Duluth and Dylan Flunker of Rainbow Health Initiative, and sought to explore:
What medical and aging resources are available for transgender older adults?
How do transgender older adults experience health services and aging services in the Twin Cities metropolitan area and the Arrowhead region?
What do health services and aging services need in order to better serve this population?
Rainbow Health staff held three community conversations with LGBTQ and/or PLWH (People Living with HIV) aging groups that were identified as having gaps in service: Caregivers, BIPOC, and Solo Seniors. Rainbow Health investigated that way the three LGBTQ+ aging communities have been impacted by the COVID-19 pandemic, how they connect with their community, and what resources are missing for support. 
"Going Back in the Closet": Addressing Discrimination against Sexual and Gender Minority Residents in Long-term Services and Supports by Providing Culturally Responsive Care
This article was authored by B. R. Simon Rosser, Univ. of Minnesota, and co-authored by Rainbow Health. It was developed with funding from the National Institute on Aging for the award titled, "Training the Long-Term Support and Services Workforce in Sexual and Gender Minority Competent Provision of Care" (Grant No. 1R56AG070748-01A1; PIs: B.R.S.R. & 24. 32. T.S.).