About PrEP & PEP
PrEP (Pre-Exposure Prophylaxis) is a once-a-day pill that is 99% effective in preventing HIV transmission through sex and at least 74% effective in preventing HIV through injection drug use (IDU) per the CDC.
PEP (Post-Exposure Prophylaxis) can reduce your chance of getting HIV after a possible exposure. PEP should be taken within 72 hours (3 days) after the possible exposure.
Is PrEP right for me?
PrEP could be right for you if you are HIV-negative and:
Condoms aren't always used during sex or you prefer condomless (bareback) sex.
You've been diagnosed with an STI in the past year.
You or your partner has recently been incarcerated.
Sex is exchanged for services or other needs.
You have one or more sexual partners living with HIV or who don't know their HIV status.
You're interested in sexual pleasure and intimacy.
You want to reduce your risk for HIV from substance & injection drug use.
You've experienced intimate partner sexual violence (IPSV)*
PEP could be right for you if you:
May have been exposed to HIV during sex.
Shared needles, syringes, or other equipment to inject drugs.
Experienced sexual violence – including intimate partner sexual violence (IPSV)*.
*The Minnesota Coalition Against Sexual Assault (mncasa.org) offers support and access to resources for those who've experienced or continue to experience domestic violence, sexual assault, human trafficking, and more.
Day One crisis line, operated by Cornerstone (Call 1-866-223-1111 or text 612-399-9995), for 24/7 services through text, webchat, or a phone call.
About HIV
What is HIV?
Human Immunodeficiency Virus (HIV) is a virus that attacks the body's immune system. If HIV is not treated, it can lead to AIDS (acquired immunodeficiency syndrome).
While there is no cure for HIV/AIDS, individuals living with HIV/AIDS can live long, healthy lives with proper medical care.
Learn more HIV facts here: HIV | CDC
U=U
Per the Minnesota Department of Health (MDH):
"When taken as prescribed, HIV medications can decrease the amount of HIV present in a person's blood, or "HIV viral load", to be too low to measure. This is called being undetectable. Being undetectable prevents HIV disease from progressing and allows people to live long and healthy lives. It also protects the health of their sex partners.
People cannot pass HIV through sex when they have undetectable levels of HIV. This prevention method is estimated to be 100% effective as long as the person living with HIV takes their medication as prescribed and gets and stays undetectable. This concept known as Undetectable = Untransmittable (U=U)."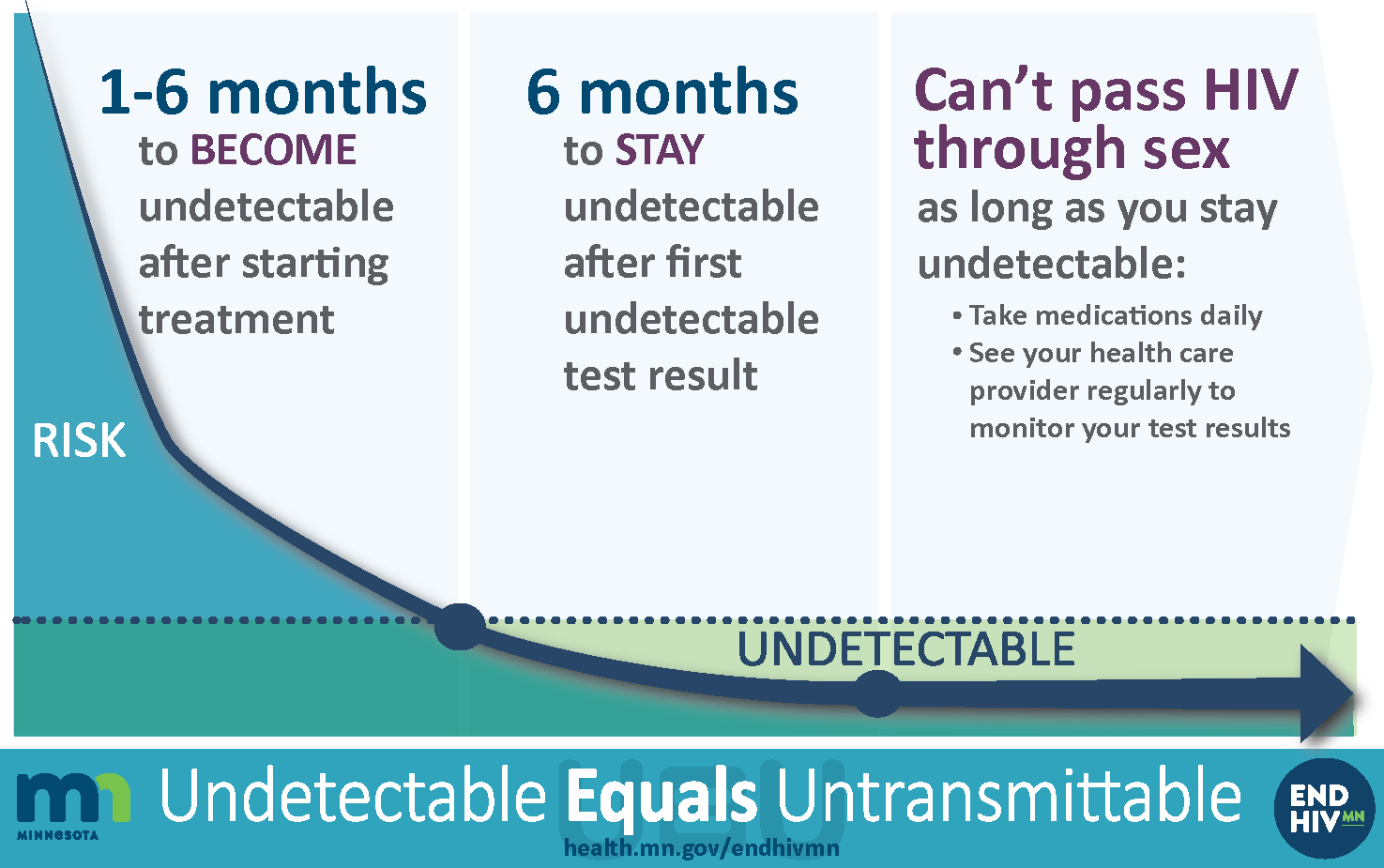 AIDSLine
The Minnesota AIDSLine is Minnesota's statewide information and referral service that can answer your questions about HIV and link you to help. You may reach AIDSLine by phone, text, e-mail, or live chat.
Text "AIDSLine" to 839863
Call Us