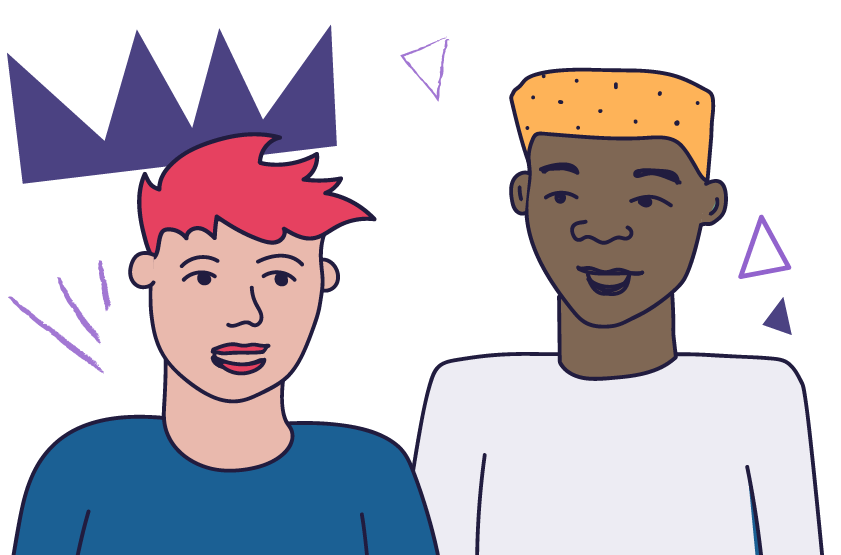 Why Rainbow Health Minnesota?
For nearly 40 years we have been advocating for and serving the LGBTQ+ community, those living with HIV, and all folks facing barriers to equitable healthcare. Since our formation through the Minnesota AIDS Project and Rainbow Health Initiative merger—and later the acquisition of Training to Serve—we have continued to grow and identify new ways to commit to our mission.
These past few years have challenged and strengthened this unified team in ways we could have never expected. We decided another change was needed to continue moving forward: a name that grounded us in our legacy and proudly proclaimed our purpose.
Why Change?
Simply, we want a name we can be proud of, that reflects our legacy and our people. We want a name that speaks to our role as an inclusive home for people experiencing health inequities. We decided that Rainbow Health Minnesota best reflects who we are today and where we see ourselves tomorrow. Our new name represents our pride and long legacy as an LGBTQ+ organization fighting HIV and health disparities for our diverse communities across Minnesota.
We also need to acknowledge that our prior name was inappropriately taken from another organization serving people of color, which led to its downfall and hurt many people in the process. That action was wrong and inconsistent with our values of anti-racism. As a result, too many people we care about felt excluded from our work. We need to take responsibility for undoing that misdeed and deepen our commitment to dismantling systems of white supremacy and injustice.
Our Mission
While our name has changed, our purpose has not. We are as dedicated as ever to working for equitable health care access and outcomes for people who experience injustice at the intersection of health status and identity. We center individuals and communities at risk of and living with HIV or facing barriers to equitable health care access and outcomes because of their identity as gender, sexual, and/or racial minorities.
We help people navigate healthcare systems by breaking down barriers, particularly LGBTQ+ people and those affected by HIV.
We work to End HIV by building on our four-decade legacy of providing the most comprehensive array of Minnesota AIDS Project's wrap-around services for people with HIV. As a disease of injustice, the only way to end HIV is to end health disparities.
We offer unique and specialized mental and chemical health services by and for the communities we serve. Our care is trauma-informed, harm-reduction based, sex-positive, and meets people where they are. We turn no one away for inability to pay.
We work to empower people on the margins with relevant information, support, and connection to resources that allow them to lead healthier lives. Our legacy of four decades fighting HIV and LGBTQ+ health disparities has given us insight and experience that we can bring to the broader movement for health equity.
We educate and train providers about how to deliver better care for the diversity of LGBTQ+ and HIV communities through a lens of intersectionality.
We are Rainbow Health Minnesota, and we will do whatever it takes for each and every person to be cared for and respected.
Our Purpose
We bring our purpose to life in two primary ways:
Directly serving and supporting the needs of people who need help with compassionate care that breaks down barriers to better health.
Fighting for better health systems for those erased and excluded by educating care providers, policymakers, and one another.
The strategic actions we are taking to fulfill our purpose include:
Work to End HIV.
Expand our training and systems change enterprise.
Respond to the growing needs of older LGBTQ+ and HIV communities.
Increase community engagement and empowerment.
Explore targeted LGBTQ+ direct care services.
Strengthen operational and financial stability.
Be part of sustaining and growing Rainbow Health Minnesota by becoming a monthly donor. Your monthly donation gives us confidence and energy as we expand our work to meet our community's health needs. Together, we can make a monumental impact.