Blog • Jacqueline's Story
Jacqueline's Story:
A long time coming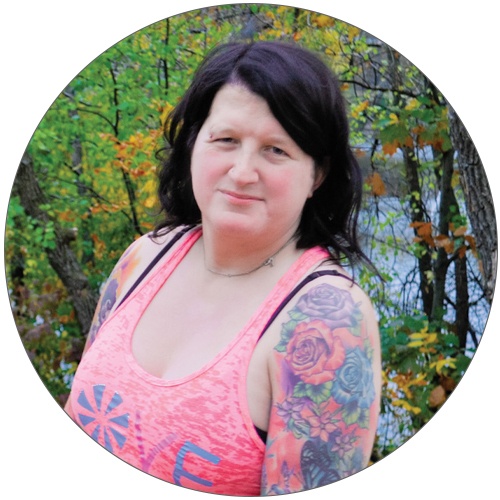 Jacqueline had already started hormone replacement therapy for her transition in 2018.
A year-and-a-half later, she submitted documentation for her breast augmentation surgery. Her pre-authorization for the surgery was denied by her employer-sponsored health insurance company. The insurance company claimed the surgery was not medically necessary even though Jacqueline submitted all the necessary support and recommendations from her medical doctor and therapist.
That rejection, she says, came not only on her birthday weekend, but at her lowest point mentally and emotionally. So, following the advice of her care team, she turned to Rainbow Health for help.
That interaction with Rainbow Health kicked off Jacqueline's multi-year legal battle for insurance coverage for the surgeries she needed to complete her transition. Jacqueline admits she didn't understand everything that was going on legally, so she felt so fortunate to have her Rainbow Health legal advocate on her side. "He was very knowledgeable about everything, which was obviously awesome, and he's very nice and very caring in how he looked at things," Jacqueline said. "At the same time, he was also able to kind of dumb things down, so the average layperson like me can understand all the legal stuff going on. If I had to go through this again, I definitely would like to have him or someone like him on my side."
This past April, Jacqueline underwent her breast augmentation surgery, covered by insurance. For her, it's been a long time coming. She recalls first questioning her identity in her mid-teens, some 25 years ago. She's thankful to Rainbow Health for helping her along the way. "All the great help I got from them over the last couple of years helped bring me out of the funk I was in and realize that hey, we can still get to this goal we want to reach," she said.
Jacqueline recently submitted documentation for the final step, her vaginoplasty surgery. In an eerily similar way, her first attempt was denied. This time the insurance company says it's because they only received one letter of support instead of two. She resubmitted, and as of this writing, is awaiting a decision.
But Jacqueline is optimistic this time around that it will be approved, and she can finally move on.
"It'll just feel like a huge relief. I finally get to go on to just living, instead of having to worry about trying to assume the identity I really think I should have," she said. "Who knows? Say I get it next year; hey, life begins at 40."
Staying in the fight
Jacqueline's legal battle with her insurer was long and often overwhelming, she says. Unfortunately, her story isn't uncommon. A 2020 report from the Center for American Progress found that 40 percent of transgender respondents, and 56 percent of transgender respondents of color, said their health insurance companies denied coverage for gender-affirming care, including treatments like hormones and surgery. The same report also found that 48 percent of trans respondents, including 54 percent of trans respondents of color, said their health insurance companies covered only some gender-affirming care or didn't have any providers in their network.
With the help of Rainbow Health, Jacqueline was able to stay the course and achieve the result she needed. But it wasn't easy.
"If I didn't have Rainbow Health, or anyone in my corner," she said. "I probably would have given up years ago, just being overwhelmed by the whole length of the legal process."
The future is bright
Today, Jacqueline has a much better outlook on life. She says she's more self-confident and self-assured now that she can present herself both verbally and physically more authentically to who she feels she is. "I'm not going to say every day is rosy, because we all have our down days, but those days are way farther and fewer between," she said.
"Anytime you undertake something as big as gender reassignment surgery, and you get multiple roadblocks put in your way, it makes you question a lot of things, but basically, Rainbow Health helped me get over all those hurdles and become who I really felt like I truly am," Jacqueline said.