Profile of HIV in Minnesota
Originally Published: 04/29/2019
Data from the 2018 Minnesota Department of Health HIV/STD Surveillance report revealed the following information about HIV across the state.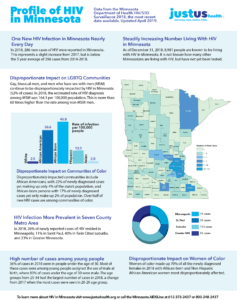 In 2018, 286 new cases of HIV were reported in Minnesota
Over half of new HIV cases in Minnesota for 2018 are among communities of color.
Women of color made up 70% of all the newly diagnosed females in 2018.
As of December 31, 2018, 8,981 people are known to be living with HIV in Minnesota.
1,000 Minnesotans are estimated to be living with HIV without knowing it.
49.9% of people living with HIV in Minnesota are at or below 400% of Federal Poverty Guidelines and rely on services through a network of non-profit organizations like JustUs Health
Gay, bisexual men, and men who have sex with men (MSM) continue to be disproportionately impacted by HIV in Minnesota at a rate that is more than 60% higher than non-MSM men.