PRESS RELEASE: Mayor Frey Signs Executive Order Establishing Minneapolis as a Safe Haven for Gender-Affirming Care
Order prohibits City staff and departments from working with other states or jurisdictions pursuing legal actions against individuals or entities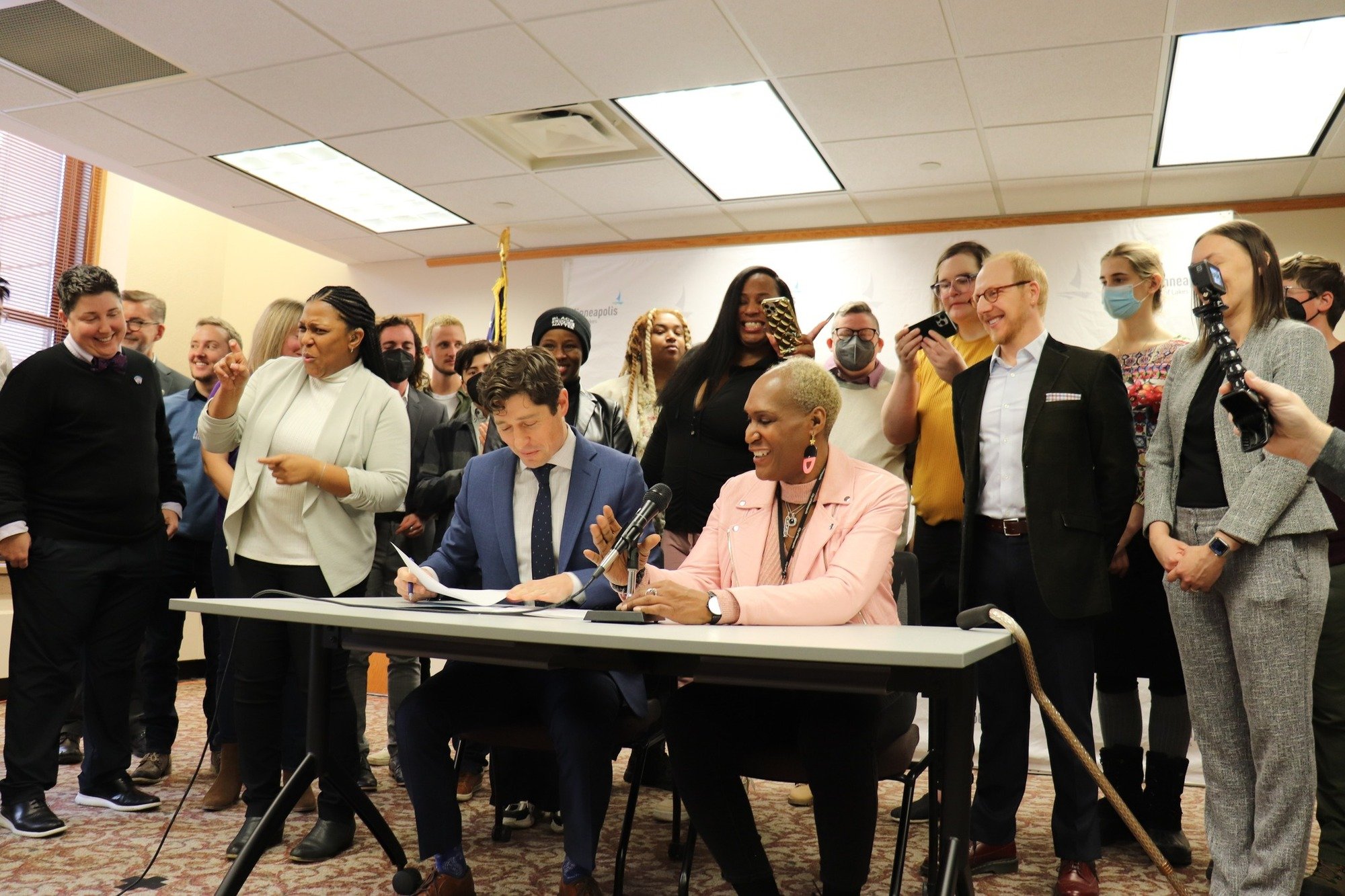 Photo: City of Mpls
Today, Minneapolis Mayor Jacob Frey signed an Executive Order protecting people seeking or receiving gender-affirming care in Minneapolis. During a time when many states are restricting or criminalizing access to this kind of care, this Executive Order supports people's access to all services, supplies, drug therapies, and other care that an individual may receive to support and affirm their gender identity.
Executive Order 2022-04 prohibits all City departments and City staff from taking any enforcement action against providers or individuals exercising their right to gender-affirming health care in Minneapolis. The Executive Order also affirms the right of minors living apart from their parents to make their own medical decision regarding gender-affirming health care, pursuant to Minnesota state law.
"Our transgender and nonbinary communities deserve to have protected and safe access to health care," said Minneapolis Mayor Jacob Frey. "I am committed to keeping Minneapolis a safe haven for anyone seeking or receiving gender-affirming health care here. No matter where you're from, you will be protected in our city."
"I am proud to support this executive order, especially in light of the anti-LGBTQ rhetoric and policies and hate crimes we are experiencing in our country and state right now," said City Council President Andrea Jenkins. "As we consider our work and our future at the City of Minneapolis, it's important to focus on intentional policies and practices, including demonstrating and stewarding safe access to gender-affirming healthcare. As we know, yesterday was World AIDS Day; consider how different the impacts would have been had we addressed the healthcare needs of the LGBTQ+ community. This executive order puts us at the front of the curve instead of behind the ball."
"I want to thank Mayor Frey for taking action to ensure health care professionals like myself can provide the comprehensive and compassionate care transgender and gender-diverse youth in our community deserve," said Dr. Angela Kade Goepferd, chief education officer and medical director of the Gender Health program at Children's Minnesota. "The care we provide has been supported through evidence-based research and expert opinion by every major medical society in this country, including the American Academy of Pediatrics. Despite this, too often in our clinic, I hear from patients who are being attacked and discriminated against – based on their gender identities and expression."
"HealthPartners and Park Nicollet have a long history of providing care that is inclusive of the diverse communities we serve." said Dr. Deborah Thorp, medical director for Gender Services at Park Nicollet. "We are steadfast in our commitment to providing gender-affirming care for our patients and we support this effort by the City of Minneapolis to ensure care continues to be available and protected within our community."
"The number of shameless attacks on transgender and nonbinary people across the country is deeply troubling to see and causes real harm," said Rainbow Health CEO Jeremy Hanson Willis. "It's important to see Minneapolis and Hennepin County live up to their legacies of working to create welcoming places for transgender and nonbinary people to live. Gender-affirming care is often life-saving and we should be proud to see our public leaders assure that this right remains available in Minnesota."
"In a nation seemingly seized with controlling other people's bodies, Family Tree Clinic is proud to stand for bodily autonomy and access to gender-affirming health care," said Maxwell Johnson, patient resources specialist at Family Tree Clinic. "We hold unwavering love and support for our trans, nonbinary, and gender-expansive communities and we are honored to partner with the City of Minneapolis in declaring our city as a safe haven for access to gender-affirming care for all."
The Executive Order applies to every City of Minneapolis department including, but not limited to, the Minneapolis Police Department, the Minneapolis Department of Health, and any agency, division, commission, committee, board, or other body or person established by authority of a City of Minneapolis ordinance or resolution, City Council order, or executive order. Any exemption to this Executive Order would only be if there is information required by statute, regulation, order of a court of competent jurisdiction, or lawfully issued judicial warrant of a court of competent jurisdiction.
Watch CEO Jeremy Hanson Willis's remarks
This press release is from the City of Minneapolis, Office of Mayor Jacob Frey