---

Rainbow Health Agency Newsletter
Volume 1 • Issue 2 • Winter/Spring 2023
---
Jeremy Hanson Willis

Chief Executive Officer
Rainbow Health

According to the United Nations, the world population surpassed 8 billion people on November 15, 2022. It seems astonishing then that it can still be such an incredibly lonely and isolating place for those living with HIV, but it can. As you will read from Rainbow Health's clients Jeff and Rea in this issue, people living, and aging, with HIV continue to feel very stigmatized and alone. It is that loneliness and isolation that often leads them down a dangerous path of chemical addiction.

For too many, chemical addiction and living with HIV go hand-in-hand. It is, unfortunately, a way of coping with the pain, shame and sorrow of the past, present and future.

We have come so far as an LGBTQ+ community over the past 40 years, and we have made such progress. Great progress. Yet, these stories remind us how much work there still is to do to ensure that everyone in our community has access to the support and treatment they need to live healthy, happy lives. No one should feel alone.

As an organization, we are so humbled and appreciative to have partners and friends like you who join us in continuing this necessary work so we can help Jeff and Rea and so many more just like them.

With gratitude,

---
---
FEATURE STORY
---
Easing the pain: HIV and chemical addiction
---
At Rainbow Health, our chemical addiction program provides services across the LGBTQ+ community, but among people living with HIV, the pervasiveness of chemical addiction is particularly high. A November 19, 2019, study published in the National Library of Medicine found the prevalence of Alcohol Use Disorder among people living with HIV and AIDS in developed countries was 42.09%. That's almost half, and that doesn't take into account the use of other illicit drugs.
Substance abuse has been intrinsically linked to HIV since the earliest days of the epidemic. In fact, intravenous drug use remains a common risk factor in the transmission of HIV. But, that's not the only role drugs and alcohol play in HIV. Chemical addiction is oftentimes a coping mechanism for the pain, shame and loneliness HIV survivors feel.
It's not surprising that living with HIV every day brings with it a pandora's box of emotions and experiences that are unique to this population. Add in aging over decades, losing friends and partners while simultaneously trying to cope with and manage the disease, and it's not hard to understand how people living with HIV may find themselves battling chemical addiction on top of it all.
Here are just a few of the many stories of people who turn to Rainbow Health for help.
---
---
JEFF'S STORY
Coming out of the closet once again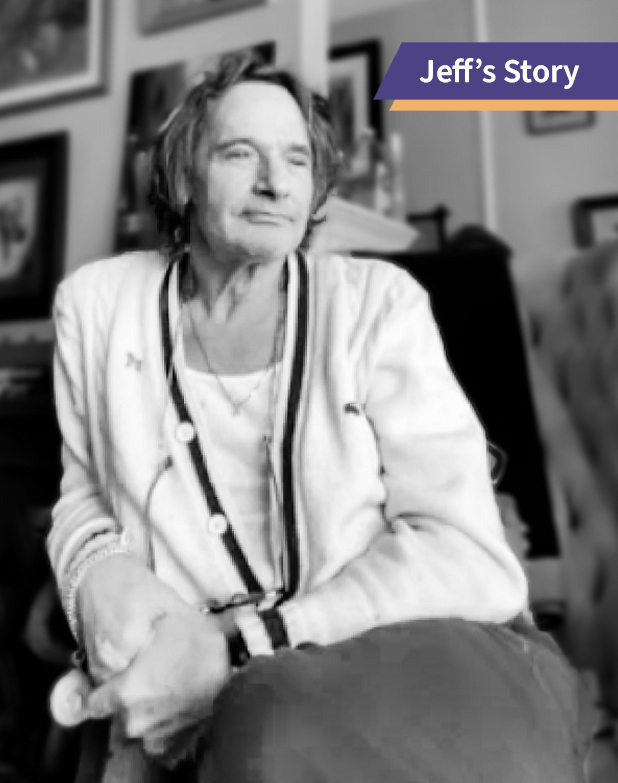 When Jeff came out at the age of 19, he didn't have any reservations. He says from that moment on, he was always an open and active member of the "tribe" as he calls it. Though he'd struggled in childhood with being different and was often teased and called a "fag," he says once he came out, he immediately found a support system, and he felt embraced.
"When I came out, it was the drag queens that put me under their wing," he said. "They taught me about my history, you know. They taught me about Harvey Milk, they taught me about Stonewall, they taught me that literally men's and women's blood, Marsha P. Johnson, had been shed for the, no rights I had at that time," he said. That fundamental understanding of the queer movement's history is something Jeff says is missing from the current conversation. "I don't know how you know where you're going, if you don't know where you came from," he said. "History will repeat itself."
Today, as a 59-year-old gay man, Jeff finds himself struggling to fit into the queer community more often than not. His memories of the HIV crisis in the 1980s still weigh heavily on him. He recalls the feelings of shame that he says were there whether you tested positive or negative. "That was a time where the men that were left wouldn't date you because you were HIV positive. They didn't want anything to do with you," he said. "So, the shame that I got from my own community about being negative then, and now today, the shame that I get about being positive, it's, I'm disappointed, I'm disappointed."
Filling the void
That feeling of shame and not fitting in leaves Jeff feeling desperately isolated and lonely with no place to turn. "You know, I look around outside when I go places, and I don't see men like me in the community," he said. "There's just, there's nothing for an aging gay man. It's a terribly lonely place to be."
That loneliness tends to spiral, and Jeff too often sinks back into his struggle with addiction. He says if it wasn't for Rainbow Health's ongoing support, he wouldn't survive. "If I didn't have you to come to, where would I go? Where would anybody who struggles with addiction go, we'd die," he said. "You don't count how many times we've been there. You don't say, 'Oh no, not again.' You don't even talk about it. You just say, let's get you some help."
Jeff says he's felt fortunate and "beyond grateful" for Rainbow Health's support since his first encounter. "When you're hopeless as an addict, and everybody tells you, 'We can't help,' that creates a new level of hopelessness that I don't even have a word for," he said.
"I knew when I walked through your doors that I did not have to feel shame, and I never felt condemned, and I never felt judged." Jeff said. "The hand has been out consistently. Every time I have walked in your door for treatment, for getting health care plans, for transportation, you guys have been just amazing."
Leaving it better than you found it
Jeff's full of ideas on how to improve the experience for people aging with HIV and reduce the feelings of isolation and loneliness. "We need to create space. We've created space now for people who are in their early life. We've created space for people who need recovery," he said. "We have not created the space for people who are aging. It's terrifying to be aging in this community and not have places to go."
And Jeff isn't afraid to roll up his sleeves and do the hard work to create that space. "I have the passion, I can do the work," he said. "It doesn't have to be my idea, I can do the footwork, but I don't even know where to start to try to create something for men who are aging and lonely."
He just knows he wants to do something because leaving the world a better place is a principle his father instilled in him from a young age. "He taught me the thing that's most important is, did you leave it a little bit better than when you found it?"
Turning the page
Jeff says he's ready to close the door on addiction. "When you try to leave the world of addiction, people are only too happy to keep the door open," he said.
But he wants to close that door and open the door to rejoining the "tribe" and making an impact in a meaningful way. "I think it's about opening the door again and letting us out of the closet because we're back in the closet as far as I'm concerned as an aging gay man," Jeff said. "I have to put my passion somewhere and that to me is doing anything I can."
---
---
REA'S STORY
"Goodbye addictions. I am running to the light."
Thirteen. That's how old Rea was when she was lured into the glitzy, glamorous and flashy world that had always surrounded her. Just like that, her life turned from an innocent childhood to a premature adulthood, where she found herself deep in the throws of exploitation, incarceration and addiction at the hands of those she'd admired so much.
Rea is a survivor of sex trafficking and prostitution. As she reflects on the naïveté that she says allowed her, at such a young age, to be charmed into that lifestyle, she said, "I loved the money, the diamonds, the furs, the cars and the sexy clothes, The way people in that lifestyle moved around, it was like royalty."
But that lifestyle came at a great cost and consequence. In the mid-1980s, Rea walked into her local health department to get an HIV test and walked out facing a whole new kind of lifestyle. Her test result was positive.
Learning and relearning to cope
Rea was devastated. Her first reaction she says was to curl up in a ball and cry and pray. "I just knew I was dying, you know, because the hype with the media, they had everybody thinking that it was a death sentence if you had it," she said. "See, you gotta understand this was like the first one or two years that it was even out there. I probably have had this virus longer than most of y'all have been alive."
Like so many other people facing a future of living with HIV, Rea's second reaction was to bury the loneliness, pain and the shame of her diagnosis by using drugs and alcohol to self-medicate it away.
"I stayed drunk, high, anything that I could be to take me out of my normal self, where I would have to think about having HIV," she said. "I was numbing any way I could. Anything to make me not feel the shame and the pain that I was having behind finding out I was positive."
Then, Rea's story landed on the evening news. She says she faced so much harassment, humiliation and mistreatment in her local community that she eventually had to leave her hometown. "It's like they ran me out," she said.
"I felt like I was used merchandise, you know," she said. "And I didn't want people to know, especially men, because if they know that, they wouldn't want to be with me."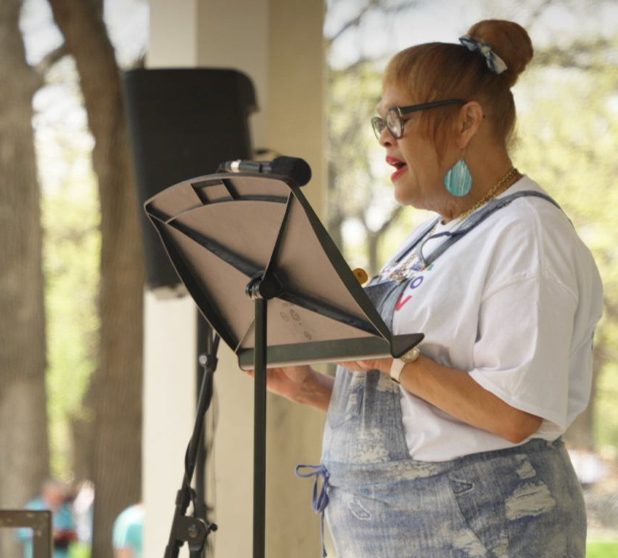 Rewriting the story
She describes that time in her life as wanting "to crawl in a hole and never come out." It's a feeling she says she still occasionally has today. But, today, she tries to channel the shame and loneliness she feels by engaging in opportunities to help others. "Everything happens for a reason, I believe," Rea said. "And I think that if you use that to help people with their shame, every time you help somebody, your shame lessens. At least for me, I feel less bad."
Rea has recently written a goodbye letter to her addictions, and she's feeling healthier than ever. "I have health problems from the way I treated my body by getting high, but it has nothing to do with HIV," she said.
In the 35 years she's been living with HIV, Rea says her t-cells have never been under 200. Her viral load is currently undetectable, and her t-cells are 825. And, she continues to get support for her chemical addictions through Rainbow Health.
---
---
---
| | |
| --- | --- |
| | Download posters of this infographic: |
| | |
---
IN THE NEWS
---
Big things are happening in Minneapolis!
---
Rainbow Health advocates for LGBTQ+ resources

Rainbow Health has been working closely with the City of Minneapolis to create resources that will provide additional support for the LGBTQ+ community.

In December of 2022, two significant events took place:

The Minneapolis City Council approved a budget amendment to fund the creation of a directory of healthcare providers for LGBTQ+ communities and People Living with HIV

Mayor Frey signed an Executive Order protecting gender-affirming healthcare in Minneapolis
"This is GIANT. It sets precedent locally and nationally. It shifts resources to materially impact people's lives. It would not have happened without Rainbow Health's partnership and advocacy."
— Track Trachtenberg, Trans Equity Project Coordinator • Department of Racial Equity, Inclusion and Belonging • City of Minneapolis
Read more:
---
Volunteers needed: calling all 💜's & 🖐️'s
---
---
COMING EVENTS
---
---
Winter Pop-Up Drive: Accepting donations NOW through March 1, 2023
---

Help our neighbors without shelter stay warm this winter by donating new or gently used items to our Winter Pop-Up Drive!
We're accepting donations now at Rainbow Health and All God's Children Metropolitan Community Church.
This drive is hosted by Mainline, our syringe services program. Mainline provides unused syringes, injection supplies, sharps disposal and Naxolone, in addition to free HIV and HCV testing. All of our services are confidential and free to anyone.
Accepting donations NOW!
Gently used or new coats
New, in-package undergarmets
Winter hats
Hand warmers
Tents (4-6 person capacity)
Single-use toiletries
Dog food
Household essentials
Items should be in good condition, and can be dropped off at marked bins at the following locations/times:
Rainbow Health (map/directions)
2577 W. Territorial Road
St. Paul, MN 55114
Monday – Friday, 1 — 5:00 p.m.
All God's Children Community Church (map/directions)
3100 Park Avenue
Minneapolis, MN 55407
Monday, 1 — 5:00 p.m.
Thursday, 1 — 5:00 p.m.
Friday, 10 a.m. — 2:00 p.m.
---

RESERVE YOUR SPOT NOW
National Women & Girls HIV/AIDS Awareness Day

Join Rainbow Health & HERR Day Out for our second National Women and Girls HIV/AIDS Awareness Day! This FREE event is a celebration with guest speakers, food and door prizes! All Minnesota women and girls living with HIV and AIDS are encouraged to join us.

March 11, 2023 • 10:00 a.m. – 3:30 p.m. • Learn more and reserve your spot.
---

REGISTRATION IS OPEN
Join us for the 34th Annual MN Walk to End HIV

This spring, join us for Rainbow Health's 34th Annual Walk to End HIV as we commemorate 40 years of working to end HIV in Minnesota. Learn more and register at mnwalktoendhiv.org.

WHEN
Saturday
May 13, 2023
Add to calendar
WHERE
Harriet Island Regional Park
200 Dr. Justus Ohage Blvd
Saint Paul, MN 55107
---
Recurring Events
---
Yoga with Dallas
Every Saturday from 9:30 – 10:30 am • Learn more.
Slow Flow Yoga with Val
Every Sunday from 10:00 – 11:30 am • Learn more.