Blog • Martin's Story
Martin's Story:
Surviving AIDS, living with HIV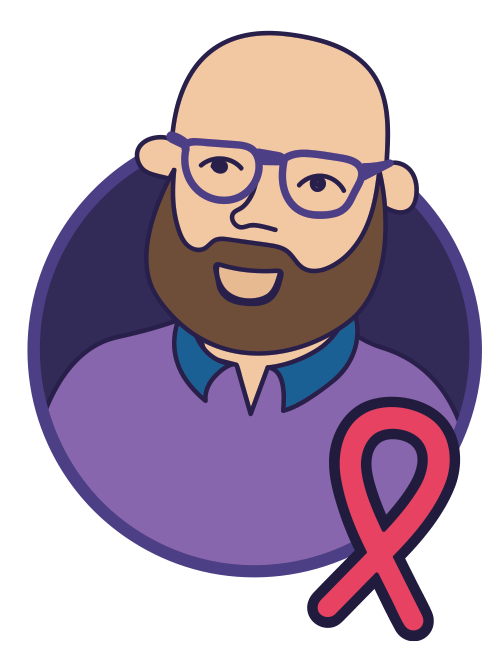 Martin was diagnosed with HIV in the 1980s.
At the time, he was living in California. It was a tough time to get a diagnosis like that, but Martin found solace via a variety of organizations where he could be among others who were in similar situations.
In the 1990s, Martin relocated to Minnesota, and in 1998, at the age of 35, he found himself spending the better part of a year in the hospital. That's when he reached out to Rainbow Health and was matched with Lynn. "She helped me a lot with what I was going through and with preparing my will," he said. Martin was preparing for what he believed was the inevitable: a funeral, not a future.
Since then, he's seen Lynn at least four more times. "Part of the reason I saw Lynn the second time, after the hospital stay," he said, "is because it was supposed to end back then. The reason I keep seeing Lynn is because all those people are gone now." Martin had become part of a core group of men who supported each other through the challenges of HIV and AIDS. The others succumbed to the disease. But Martin survived.
He gives a lot of credit to Lynn and Rainbow Health for helping him through his toughest, most challenging times. "She has been my anchor to living, or getting through," Martin said. "She saved me more times than not, and I believe in her, and I believe in the purpose of the organization."
Martin still has dark days. Over the years, he says he's been with eight different organizations. Two have collapsed. Two have reassessed their mission. A few only provide help with food and emergency services. He says it's tiring to try to find assistance on top of the sheer exhaustion of living with HIV for so long.
"People who are like me, long-term survivors, are left invisible. I've been living with HIV for almost 40 years," he said. "For those of us who are still living, we're just lost. People don't think there's an issue anymore. So that's why we need this organization."
AIDS Survivor Syndrome
Martin isn't the only one who struggles with the reality of surviving AIDS and aging with HIV. AIDS Survivor Syndrome, a term coined by long-term survivor and activist Tez Anderson, is used to describe the physical, psychological and emotional impact survivors experience as a result of living through the dying period of the epidemic. Symptoms include anxiety, depression, flashes of anger, despair for the future, low self-esteem and self-worth, social withdrawal, isolation — and guilt — among others.
Martin says he often feels "forgotten" and "invisible." "Nobody addresses a long-term survivors' support group. [The support groups] are for long-term survivors to help newbies deal with being HIV positive," Martin said. "Well that's nice, but what about us? Why can't we know that there's somebody else that's been at it as long as we have to talk to?"
With many organizations focusing most of their efforts on prevention and services for those newly diagnosed, it's easy to understand why Martin may feel "forgotten."
Change creates need
The lack of peer support is one thing, but Martin says there's more at risk for long-term survivors still living with HIV. Many, especially those infected in the early years, have long-term health concerns they have to continue to manage.
"The laws constantly change, so we need benefits coordinators that understand what those new changes are and how we can continue to maneuver this bureaucracy without losing more than we already have," he said.
The past informs the future
For Lynn's part, she's says working with Martin and other long-term survivors over the years makes her appreciate the history of the organization and how those experiences and stories can inform what Rainbow Health does in the future. "It's been a privilege," Lynn said. "I cannot tell you how great a privilege it is to be able to connect with clients. We're sharing something that's on a very personal and very intimate level. Having places to go where somebody knows you — somebody knows your story, has gone through experiences with you — it's valuable for me, and I think it's valuable for clients."
"We could rejoice with successes and grieve with losses because we knew the people," Lynn said. "I think there's so much that the HIV community can do to inform services beyond just people living with HIV."
Martin is grateful that Lynn and Rainbow Health have continued to be there for him. "We need this to exist," he said. "We don't want to be forgotten."